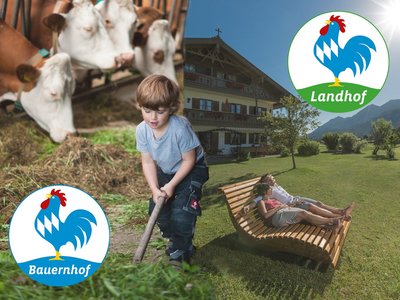 Working Farm or Country Property?
On a working farm (in German: Bauernhof), you can experience life on a farm and get acquainted with farmyard life. A country property (in German: Landhof) is a former working farm that maintains tradition and commitment to local produce. Both offer a wonderful opportunity to reconnect with nature.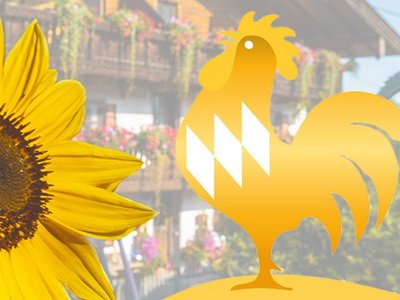 Bavarias most hospitable holiday farms
Every year, holiday farms that were reviewed by their guests as beeing outstandingly hospitable, are awarded with our Golden Rooster (in German: Goldener Gockel). Only the twenty best reviewed farms recieve the award!
Why choose a farm holiday?
Experiencing life on a farm is truly unique. It's a place of tranquility and recovery. In the third millennium, the "Homo metropolis", the common urbanite, is perpetually drawn to the country. Where the air is pore cleaning (albeit rustic and aromatic), the sky has a deeper shade of blue and rush hour is precisely at 5 o'clock when Zenzi, Vroni and Wally are strolling from the fields back to their stable. Being available - always and everywhere – awakens the secret desire for a dead spot. And those, whose city life is getting more hectic, expensive and confusing with every new iPhone generation, are longing for tranquility, simplicity and deceleration. Offline is in. And farm holidays are booming!
The best combination of farm holidays and deceleration are our farms with Spa facilities. Discover our Spa & health farms that shame every Spa hotel. Hay sauna, steam-heated herb pouches, finish sauna, massage, Kneipp basins, and lots of fresh air for Mummy, tractor driving for Daddy and farmyard experience for the children. Many holiday farms with Spa facilities offer a program for kids, even toddlers, so that the parents can enjoy the Spa while the kids are busy with felting, cheese-making or creating self-made herb soaps. Family holidays and Spa no longer needs to be a contradiction. Of course, holiday farms with Spa facilities are also ideal for couples or singles, who want to spend their holidays in a warm and welcoming atmosphere in the country.
Another highlight are farm holidays on one of our organic farms. Enjoy fresh, organically grown fruits and vegetables, fresh milk and eggs and self-made cow's or goat's cheese – An organic breakfast with products from the farm, the farm shop and the region is uniquely yummy and healthy! The farmer's wife will be delighted to show you what to create from all those yummy organic products, while your children are playing outdoors in the adventure playground or tend to the animals. Learn about traditional recipes for home-made jam, bread and cottage cheese.
Some holiday farms offer camping on the farm. Camping and farm holidays unite the farmyard experience with many petting animals to feed and yummy farmhouse breakfast with the delight of a camping trip. Owners of mobile homes are happy about the mobile home pits at the farm, and sleeping in the tent is a children's summer dream.
Why don't you combine you hiking holidays with a farm stay? Our hiking-friendly farms are located in the most beautiful hiking landscapes, the farmer knows the surroundings like the back of his hand and can name the most beautiful hiking trails. Some farms even have own alpine huts or cottages up in the mountains, that partly even serve self-made food and drinks.
Enjoy choosing your favorite holiday farm!
Working farm or country property?
Treat yourself to a time-out(side)
Farm holidays are a major success story in our fast-lane world! The Blue Rooster is the official Website for farm holidays in Bavaria. More than 1300 holiday farms offer taylor-made holidays for grown-up and little nature and animal lovers, but also for couples who long for a break from work, stress and everyday-life.
Our mountain farms, horse-riding farms, vineyards, or Spa & health farms in Bavaria offer more than just farm holidays. Increasing numbers of guests want to spend their holidays in the country, but without having to make concessions in luxury, well-being and togetherness. This is why country properties are also part of our portfolio, besides the classical working farms.
Holidays meet agriculture
Both, country properties and working farms, are holidays with the Blue Rooster and have a clear reference to agri-tourism. And one thing is guaranteed: You are close-up to Bavarian nature, Bavarian tradition and the warm hospitality of our farmers.
Holidays on a working farm
'
Spending your holidays on a working farm in Bavaria means you can get your hands dirty! You and your whole family can experience close-up how a farm is maintained. There you can look behind the scenes of modern or conventional or organic farming.
Share unforgettable experiences with your children when feeding the animals, milking the cows, or when helping with the harvest. Be there, when a calf is born, the fields are cultivated and the cheese is made.
Our working farm accommodations inculde B&B or self-catering accommodation like holiday flats and houses on the premises.
Holidays on a country property
'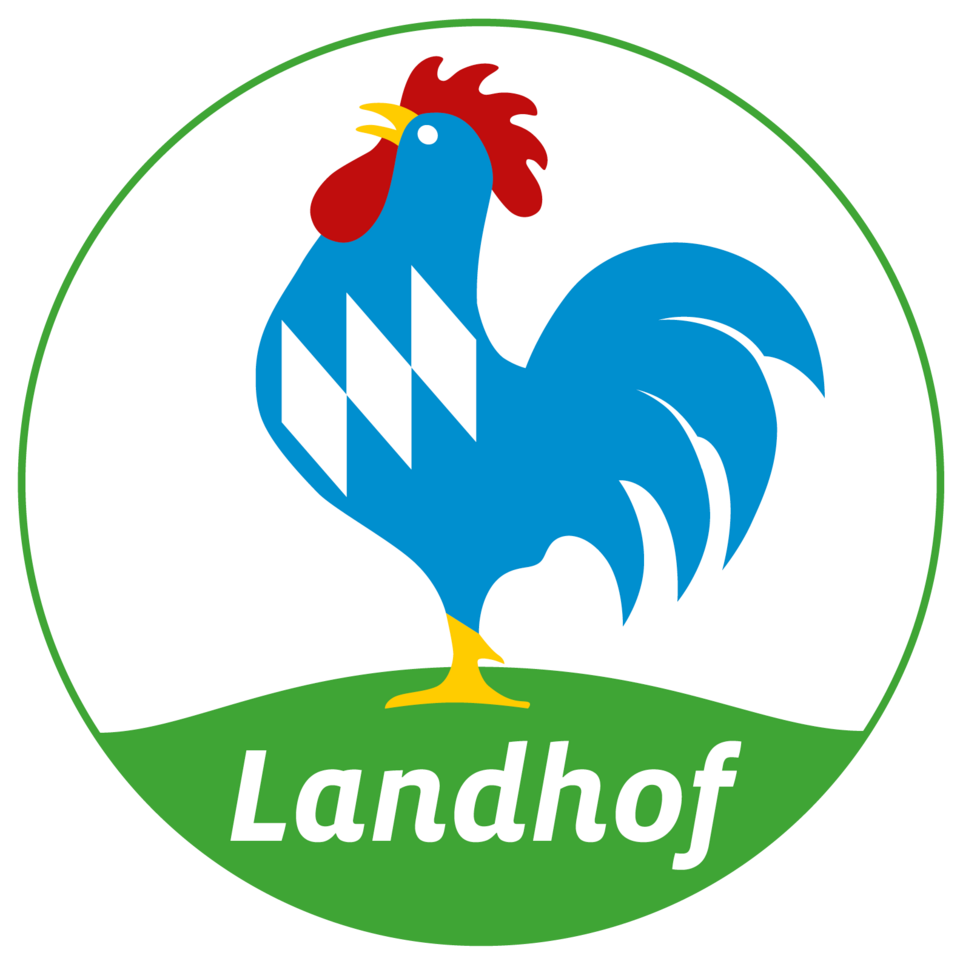 Country properties are wonderful farmhouses in stunning rural locations on former working farms. The agricultural character is still clearly visible, and the properties are a real insiders' tip for indulging in tranquility and comfort within a lush landscape. Your host family still upholds the ethos of Bavarian farmlife, living their commitment to tradition and local produce.
Your host family will happily explain the special characteristics of the region and its local delicacies.